If you are debating listing your house for sale this year, here is the #1 reason not to wait!
Buyer Demand Continues to Outpace the Supply of Homes for Sale 
The National Association of REALTORS' (NAR) Chief Economist Lawrence Yun recently commented on the inventory:
"Last month's dip in closings was somewhat expected given that there was such a strong sales increase in March at 4.2 percent, and new and existing inventory is not keeping up with the fast pace homes are coming off the market.

Demand is easily outstripping supply in most of the country and it's stymieing many prospective buyers from finding a home to purchase".
The latest Existing Home Sales Report shows that there is currently a 4.2-month supply of homes for sale. This remains lower than the 6-month supply necessary for a normal market, and 4.6% lower than a year ago.
The chart below details the year-over-year inventory shortages experienced over the last 12 months: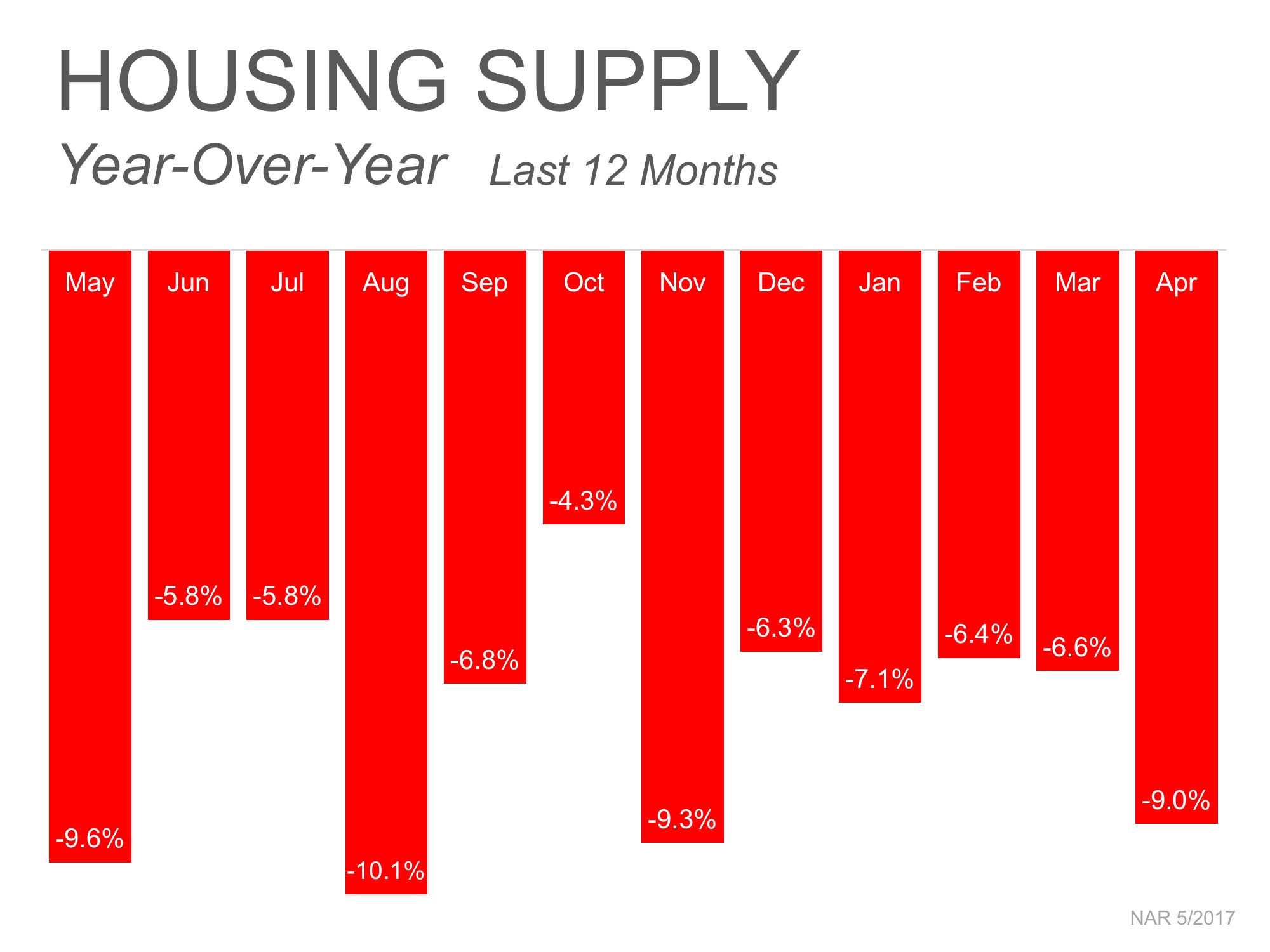 Anything less than a six-month supply is considered a "seller's market."
Bottom Line
Let's get together and discuss the supply conditions in your neighborhood to be able to assist you in gaining access to the buyers who are ready, willing and able to buy now!
source: www.simplifyingthemarket.com
---
What You Should Do if You Receive an Offer But Your House Isn't For Sale?
In tough real estate markets, buyers might take a gamble on a home that's not listed. Here is how you should handle an out of the blue offer. It is the unexpected envelope in the mail or knock on the door. A complete stranger says he/she wants to buy your home, and for a wonderful price. Home Buying Checklist
It's even quite common for an old friend of an acquaintance to approach you about their desire to buy your home. Getting an unsolicited offer for your house can feel a little odd. Home Buying Checklist
What are you supposed to do when you get an enticing offer from a home buyer when your house is not even on the market? It occurs more often than you would think, and it is helpful to carefully consider all your options, whether you have thought about selling your home or not. Home Buying Checklist
Why does this happen? Continue Reading…
https://dhbk.biz/real-estate-blog/what-you-should-do-if-you-receive-an-offer-but-your-house-isnt-for-sale/
---
Why Overpricing Your House Will Always Be a Bad Idea
Setting your home's selling price above its actual market value may seem like a great idea…right? Home Buying ChecklistYou have room to deal with buyers who like to bargain aggressively. Plus, your agent can comfortably take his or her percentage without compromising what you'll receive from the sale. Sounds like a win-win situation, right? Home Buying Checklist
Well, the process of property-selling goes deeper than that. A well-maintained house that has been priced competitively from the get-go is more likely to sell within the higher end of its value scale. It is also expected to get off the market in a relatively shorter period of time. Home Buying Checklist
Conversely, an overpriced house is more likely to stay on the market longer than expected. However, the longer it stays on the market, the lower its final selling price ends up. This has been observed in homes that typically lingered on the market for more than two months- they tend to sell for at least five percent less than its initial selling price.
Of course, there are a number of things that contribute to the time a house spends on the market. However, the initial pricing structure has proven the be one of the most influential factors in determing the time to closing. Home Buying ChecklistWhen it comes to pricing, agents know best. Continue Reading…
https://dhbk.biz/real-estate-blog/why-overpricing-your-house-will-always-be-a-bad-idea/