As home values continue to rise, some are questioning whether we are approaching another housing bubble. Zillow just reported that:
"National home values have surpassed the peak hit during the housing bubble and are at their highest value in more than a decade."
Though that statement is correct, we must realize that just catching prices of a decade ago does not mean we are at bubble numbers. Here is a graph of median prices as reported by the National Association of Realtors (NAR).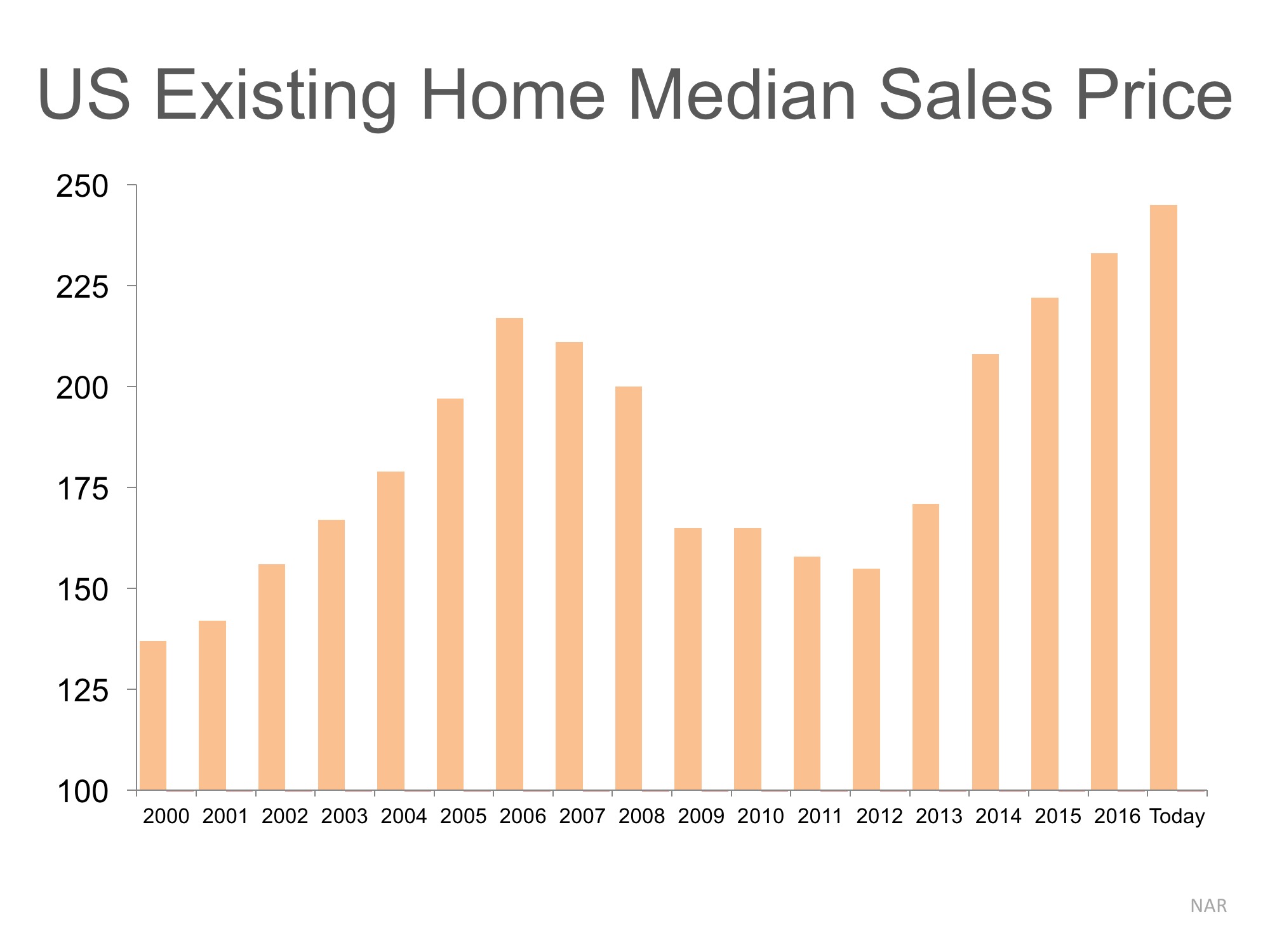 We can see that prices rose during the early 2000s, fell during the crash and have risen since 2013.
However, let's assume there was no housing bubble and crash and that home prices appreciated at normal historic levels (3.6% annually) over the last ten years.
Here is a graph comparing actual price appreciation (tan bars) with what prices would have been with normal appreciation (blue bars).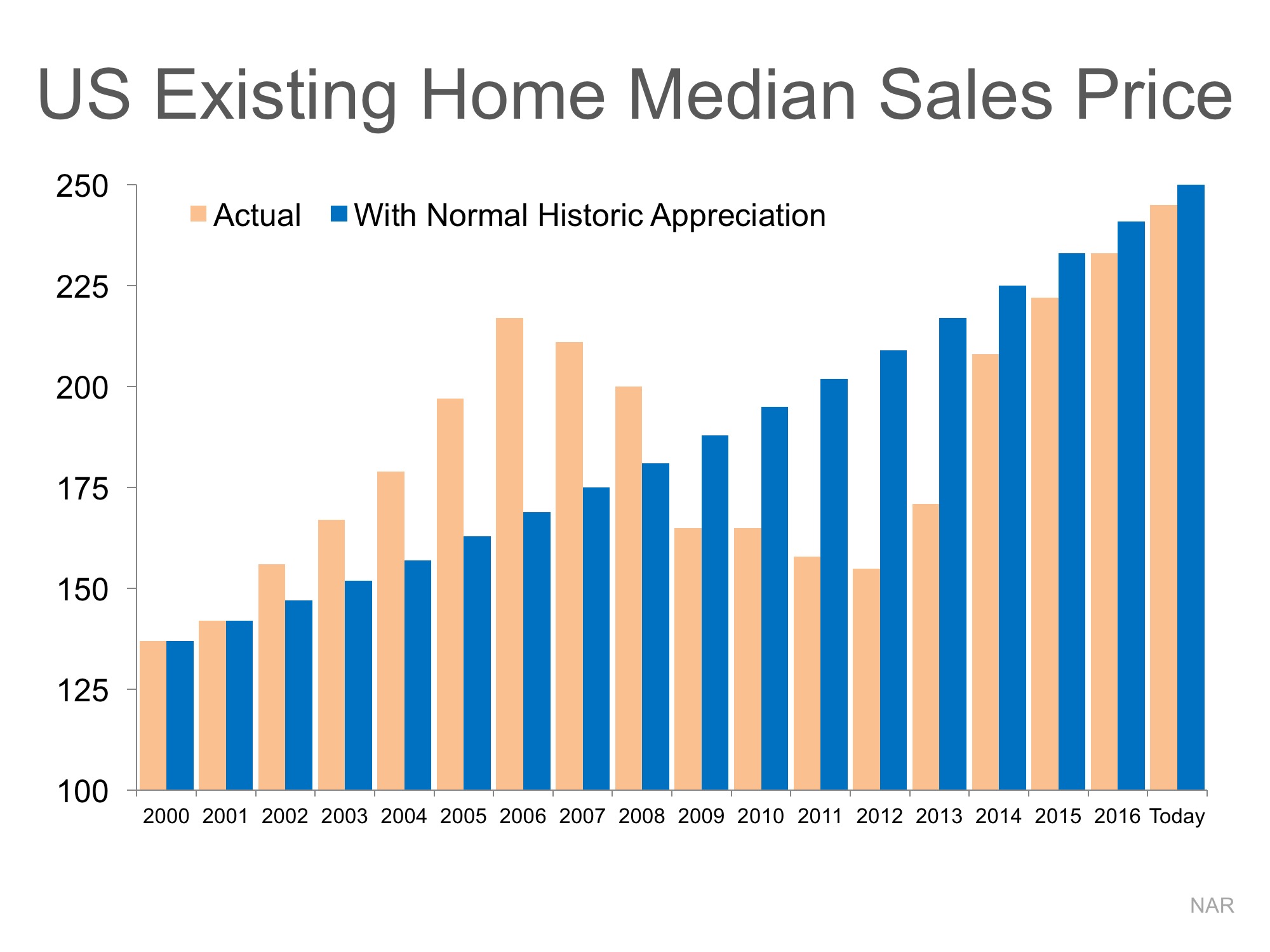 Bottom Line
As we can see, had there not been a boom and bust, home values would essentially be where they are right now. source: Real Estate News with Keith Kreis
---
Where Are the Home Prices Heading in the Next 5 Years?
Today, many real estate conversations center on housing prices and where they may be headed. That is why we like the Home Price Expectation Survey. Home Buying Checklist
Every quarter, Pulsenomics surveys a nationwide panel of over one hundred economists, real estate experts, and investment & market strategists about where they believe prices are headed over the next five years. They then average the projections of all 100+ experts into a single number.
The results of their latest survey:
Home values will appreciate by 4.4% over the course of 2017, 3.4% in 2018, 2.8% in 2019, 2.7% in 2020, and 2.8% in 2021. That means the average annual appreciation will be 3.22% over the next 5 years. Home Buying Checklist
Read More…
https://dhbk.biz/real-estate-blog/where-are-the-home-prices-heading-in-the-next-5-years/
---
The Connection Between Home Prices & Family Wealth
Over the next five years, home prices are expected to appreciate 3.22% per year on average and to grow by 17.3% cumulatively, according to Pulsenomics' most recent Home Price Expectation Survey.
So, what does this mean for homeowners and their equity position? Home Buying Checklist
As an example, let's assume a young couple purchased and closed on a $250,000 home in January. If we look at only the projected increase in the price of that home, how much equity will they earn over the next 5 years?
Since the experts predict that home prices will increase by 4.4% this year alone, the young homeowners will have gained $11,000 in equity in just one year.
Over a five-year period, their equity will increase by nearly $43,000! This figure does not even take into account their monthly principal mortgage payments. In many cases, home equity is one of the largest portions of a family's overall net worth.
Read More…
https://dhbk.biz/real-estate-blog/the-connection-between-home-prices-family-wealth/
---
Home Prices Up 6.15% Across the Country!
Some Highlights:
The Federal Housing Finance Agency (FHFA) recently released their latest Quarterly Home Price Index report. 

Home Buying Checklist

In the report, home prices are compared both regionally and by state. 

Home Buying Checklist

Based on the latest numbers, if you plan on relocating to another state, waiting to move may end up costing you more! 

Home Buying Checklist

Alaska, Delaware, West Virginia & Wyoming were the only states where home prices are lower than they were last year. 

Home Buying Checklist
Read More…
https://dhbk.biz/real-estate-blog/home-prices-up-6-15-across-the-country/