Interest rates have hovered around 4% for the majority of 2017, which has given many buyers relief from rising home prices and has helped with affordability. Experts predict that rates will increase by the end of 2017 and will be about three-quarters of a percentage point higher, at 4.5%, by the end of 2018.
Last week's Freddie Mac Primary Mortgage Market Survey revealed that interest rates for a 30-year fixed rate mortgage have fallen to their lowest mark this year, at 3.88%. This is great news for homebuyers looking to purchase and homeowners looking to refinance.
The rate you secure greatly impacts your monthly mortgage payment and the amount you will ultimately pay for your home.
Let's take a look at a historical view of interest rates over the last 45 years.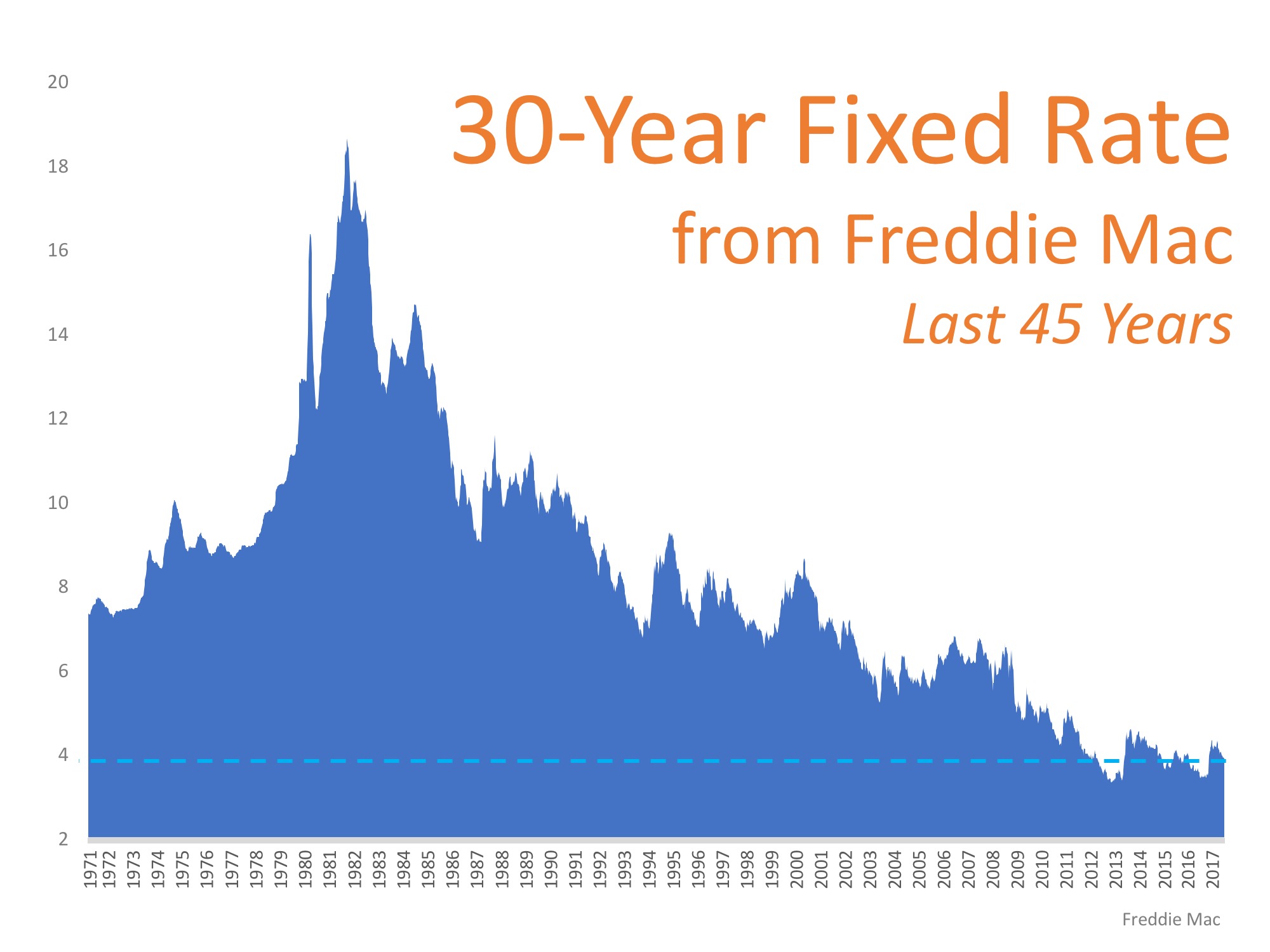 Home Buying Process by Keith Kreis


Bottom Line
Be thankful that you can still get a better interest rate than your older brother or sister did ten years ago, a lower rate than your parents did twenty years ago, and a better rate than your grandparents did forty years ago.
source: Be Thankful You Don't Have to Pay Mom and Dad's Interest Rate |  Real Estate with Keith Kreis
---
The Impact Your Interest Rate Makes
Interest rates have come a long way in the last 30 years.
The interest rate you secure directly impacts your monthly payment and the amount of house that you can afford if you plan to stay within a certain budget. 

Home Buying Process

Interest rates are at their lowest in years… RIGHT NOW! 

Home Buying Process

If buying your first home, or moving up to the home of your dreams is in your future, now may be the time to act!
https://dhbk.biz/real-estate-blog/the-impact-your-interest-rate-makes/
---
What Every Homebuyer Needs To Know About Mortgage Rates
Will they go up again? It's the top-of-mind question for lenders, real estate professionals and real estate consumers. When interest rates take a hike, the complexion of the housing market completely changes. Home Buying Process
If you're a first-time homebuyer, you are no doubt following interest rates and the doings of the Fed. It's confusing, isn't it? Real estate industry jargon is bad enough but with mortgage lingo thrown in, it's no wonder homebuyers don't know where to start.
Because interest rates fluctuate daily, it's important to shop for a loan quickly, yet effectively. Comparing lenders' offers is a critical step if you hope to keep your monthly mortgage rates as low as possible. Home Buying Process
While interest rates are but one aspect of a mortgage quote to compare against others, it is probably the most important, so let's take a look at why rates change and what you can do to get the lowest rate.
What impacts mortgage rates?
The Federal Reserve System, also known as "The Fed," is the U.S. central banking system, controlling the way money moves in and out of our country's financial system.
The Fed is governed by a seven-member Board of Governors and includes 12 regional Federal Reserve Banks. Within this group are committees; the most significant of which to a discussion of mortgage interest rates is the Federal Open Market Committee or FOMC.
The members of the FOMC are tasked with figuring out the Fed Funds Rate – the interest rate charged to banks when they borrow money. Banks that lend to other banks also use this rate. In turn, this is the base rate banks use when they determine how much to loan to their mortgage customers.  Home Buying Process
https://dhbk.biz/real-estate-blog/what-every-homebuyer-needs-to-know-about-mortgage-rates/