Forbes.com recently released the results of their new American Dream Index, in which they measure "the prosperity of the middle class, and…examine which states best support the American Dream."
The monthly index measures several different economic factors, including goods-producing employment, personal and commercial bankruptcies, building permits, startup activity, unemployment insurance claims, labor force participation, and layoffs.
The national index score was rounded out to 100 in January and saw a modest jump to 100.5 in February.
Alaska represented the lowest score on the index at 80.7, due mostly to the recent collapse in oil prices. Nevada came in with the highest score at 108.8, boosted by big gains in goods-producing jobs and new construction activity. The full results can be seen in the map below.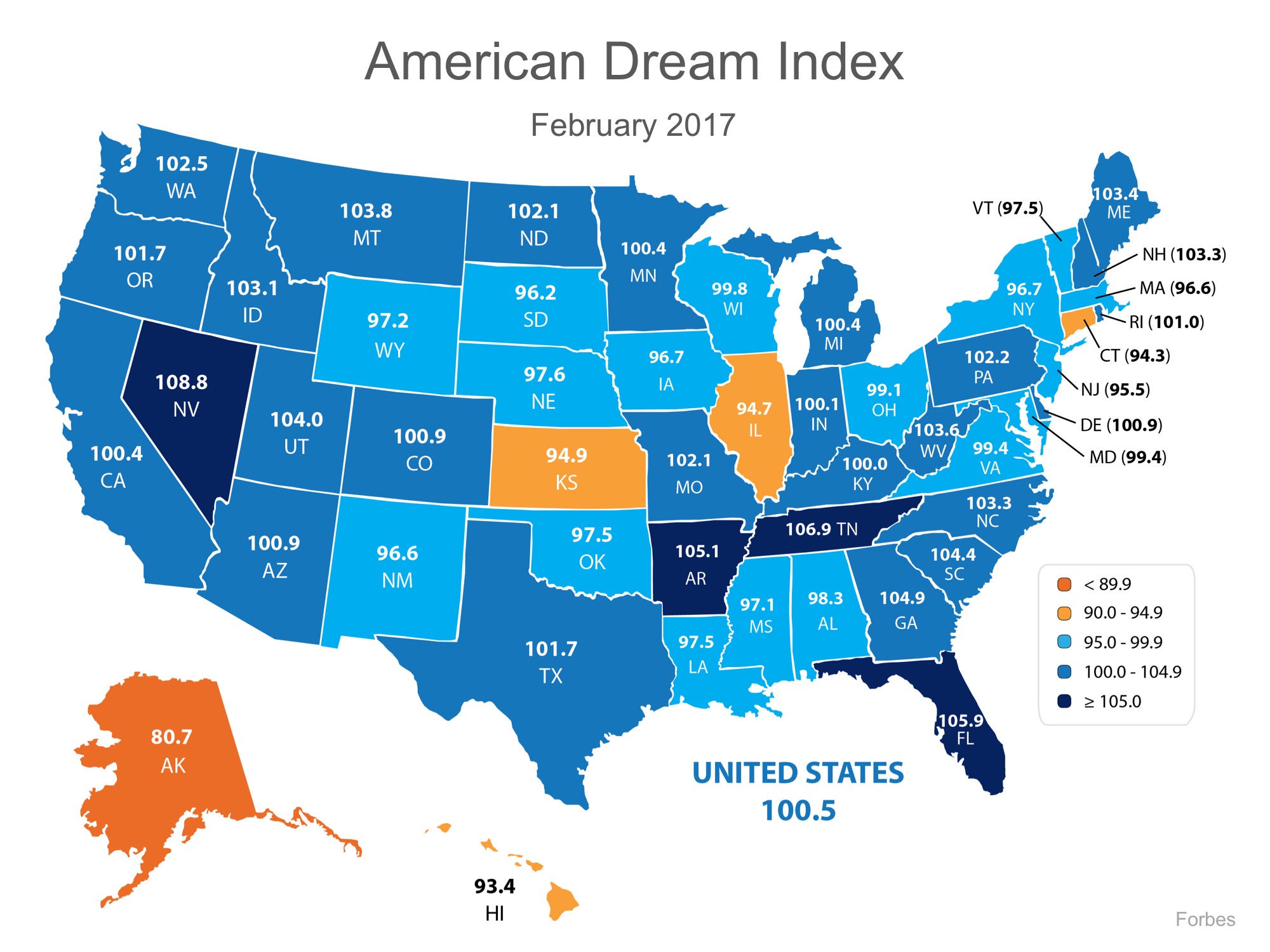 Forbes Senior Editor Kurt Badenhausen explained why many states saw a boost in the index last month:
"[B]usinesses are hiring in part in anticipation of tax cuts and less regulation… Many areas of the country have experienced strong upticks in employment and construction, as well as declines in unemployment claims since the start of the year."
Bottom Line
The American Dream, for many, includes being able to own a home of his or her own. With the economy improving in many areas of the country, that dream can finally become a reality.
source: Real Estate News With Keith Kreis
4 Reasons To Buy A Home This Spring!
---
A Checklist For the First-Time Homebuyer
Like shopping for anything expensive, shopping for a home requires research and a game plan. When you have a list of steps to take, the process will be far less perplexing and far more enjoyable. You'll also be more successful if you have a strategy, so let's take a look at some of the initial steps to take to get you into that new home. Check them off as you complete them.
Get ready to Buyhome – check your finances
No, working on your finances won't be the most exciting part of the process, but it just may end up being the most rewarding. Just as you wouldn't go car shopping without knowing exactly how much you can afford to spend, neither should you step foot in even one home for sale without understanding where you stand financially. Buyhome
A good place to start is with your credit score. If you haven't checked it in a while, order your credit reports. By law, you are entitled to one free credit report (from each of the three reporting agencies) every 12 months. The only company that is authorized by the Federal Trade Commission to supply consumers with these free reports is annualcreditreport.com.
Go through the reports and dispute any errors you find. Fixing even one error may significantly impact your credit rating. Buyhome
Read more: https://dhbk.biz/real-estate-blog/a-checklist-for-the-first-time-homebuyer
---
Keeping Your Home Buying Wish List On Track
Although experts in the real estate industry continually suggest the importance of seeing a lender before doing anything else with regards to purchasing a home, many buyers don't. Instead, they merrily attend open houses, mine Internet real estate databases and hound real estate agents to show them homes that they may not even qualify to purchase. Buyhome
We want to help you be a smart homebuyer, so we've developed a checklist to help you keep your home buying wish list realistic.Buyhome
To avoid creating a fantasy wish list you absolutely must know how much money you can spend on a house. Only a lender can help you determine this figure. Once you know what you can spend, we can help you determine where you can afford to live. From there, you can build a realistic wish list. Buyhome
Read more: https://dhbk.biz/real-estate-blog/keeping-your-home-buying-wish-list-on-track