To start the year, housing experts all agreed on one thing: 2017 was going to be the year we would see mortgage interest rates begin to rise. After years of historically low rates, and an improving economy, the question wasn't if they would increase but instead how much they would increase. Some thought we could see rates hit 5-5.5% by the end of the year.
However, the exact opposite has happened. Instead of higher rates as we head into the middle of 2017, we now have the lowest rates of the year (as reported by Freddie Mac). Here is a graph of mortgage rate movement since the beginning of the year: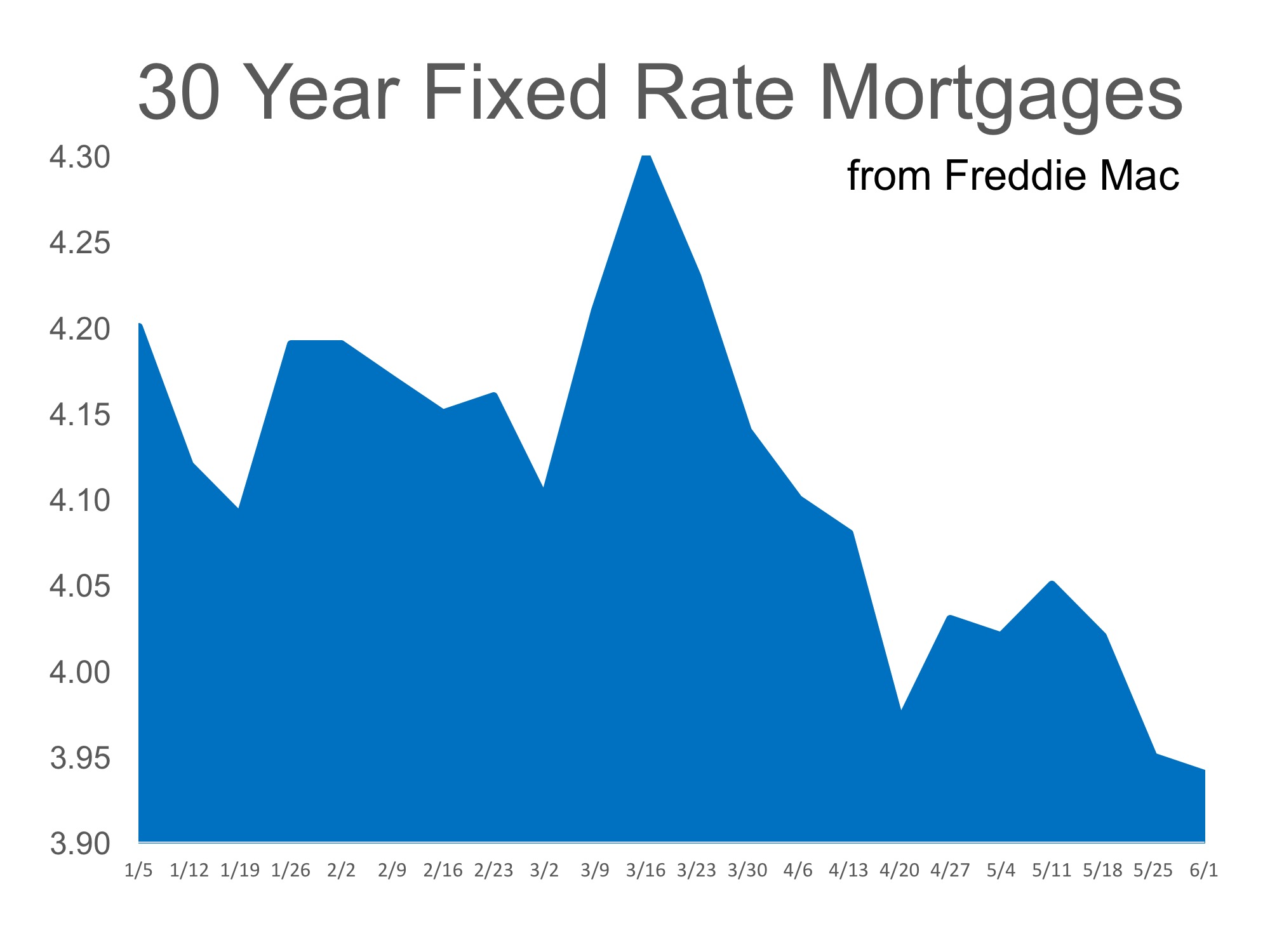 Projections still call for an increase…
Four major entities (Freddie Mac, Fannie Mae, the Mortgage Bankers Association and the National Association of Realtors) are still projecting that rates will increase by the fourth quarter of the year.

Bottom Line
No one knows for sure where interest rates will be in six months. However, if you are thinking about buying your first house or trading up to the home of your dreams, you can still get a mortgage at historically low rates RIGHT NOW. source: www.simplifyingthemarket.com


---
Mortgage Rates Impact on 2017 Home Values
There is no doubt that historically low mortgage interest rates were a major impetus to housing recovery over the last several years. However, many industry experts are showing home buying checklist concern about the possible effect that the rising rates will have moving forward. Find Home
The Mortgage Bankers Association, Fannie Mae, Freddie Mac and the National Association of Realtors are all projecting that mortgage interest rates will move upward in 2017. Increasing interest rates will definitely impact purchasers and may stifle demand.
In a recent study of industry experts, "rising mortgage interest rates, and their impact on mortgage affordability" was named by 56% as the force they think will have the most significant impact on U.S. housing in 2017. If rising rates slow demand for housing, home values will be impacted. Find Home with Keith Kreis
To this point, Pulsenomics, recently surveyed a panel of over 100 economists, investment strategists, and housing market analysts, asking the question "In your opinion, at what level will the 30-year fixed rate mortgage rate significantly slow home value appreciation?" The survey revealed the following home buying checklist: Read more…
https://dhbk.biz/real-estate-blog/mortgage-rates-impact-on-2017-home-values-home-buying-checklist/
---
What every homebuyer needs to know about mortgage rates
Will they go up again? It's the top-of-mind question for lenders, real estate professionals and real estate consumers. When interest rates take a hike, the complexion of the housing market completely changes. Find Home
If you're a first-time homebuyer, you are no doubt following interest rates and the doings of the Fed. It's confusing, isn't it? Real estate industry jargon is bad enough but with mortgage lingo thrown in, it's no wonder homebuyers don't know where to start. Find Home
Because interest rates fluctuate daily, it's important to shop for a loan quickly, yet effectively. Comparing lenders' offers is a critical step if you hope to keep your monthly mortgage rates as low as possible. Find Home
While interest rates are but one aspect of a mortgage quote to compare against others, it is probably the most important, so let's take a look at why rates change and what you can do to get the lowest rate. Find Home Read More…
https://dhbk.biz/real-estate-blog/what-every-homebuyer-needs-to-know-about-mortgage-rates/