The Aspiring Home Buyers Profile from the National Association of Realtors (NAR) found that the American public is still somewhat confused about what is required to qualify for a home mortgage loan in today's housing market. The results of the survey show that non-homeowners cite the main reason for not currently owning a home, as not being able to afford one.
This brings us to two major misconceptions that we want to address today.
1. Down Payment
NAR's survey revealed that consumers overestimate the down payment funds needed to qualify for a home loan. According to the report, 39% of non-homeowners say they believe they need more than 20% for a down payment on a home purchase. In actuality, there are many loans written with a down payment of 3% or less.
Many renters may actually be able to enter the housing market sooner than they ever imagined with new programs that have emerged allowing less cash out of pocket.
2. FICO® Scores
An Ipson survey revealed that 62% of respondents believe they need excellent credit to buy a home, with 43% thinking a "good credit score" is over 780. In actuality, the average FICO® scores of approved conventional and FHA mortgages are much lower.
The average conventional loan closed in August had a credit score of 752, while FHA mortgages closed with a score of 683. The average across all loans closed in August was 724. The chart below shows the distribution of FICO® Scores for all loans approved in August.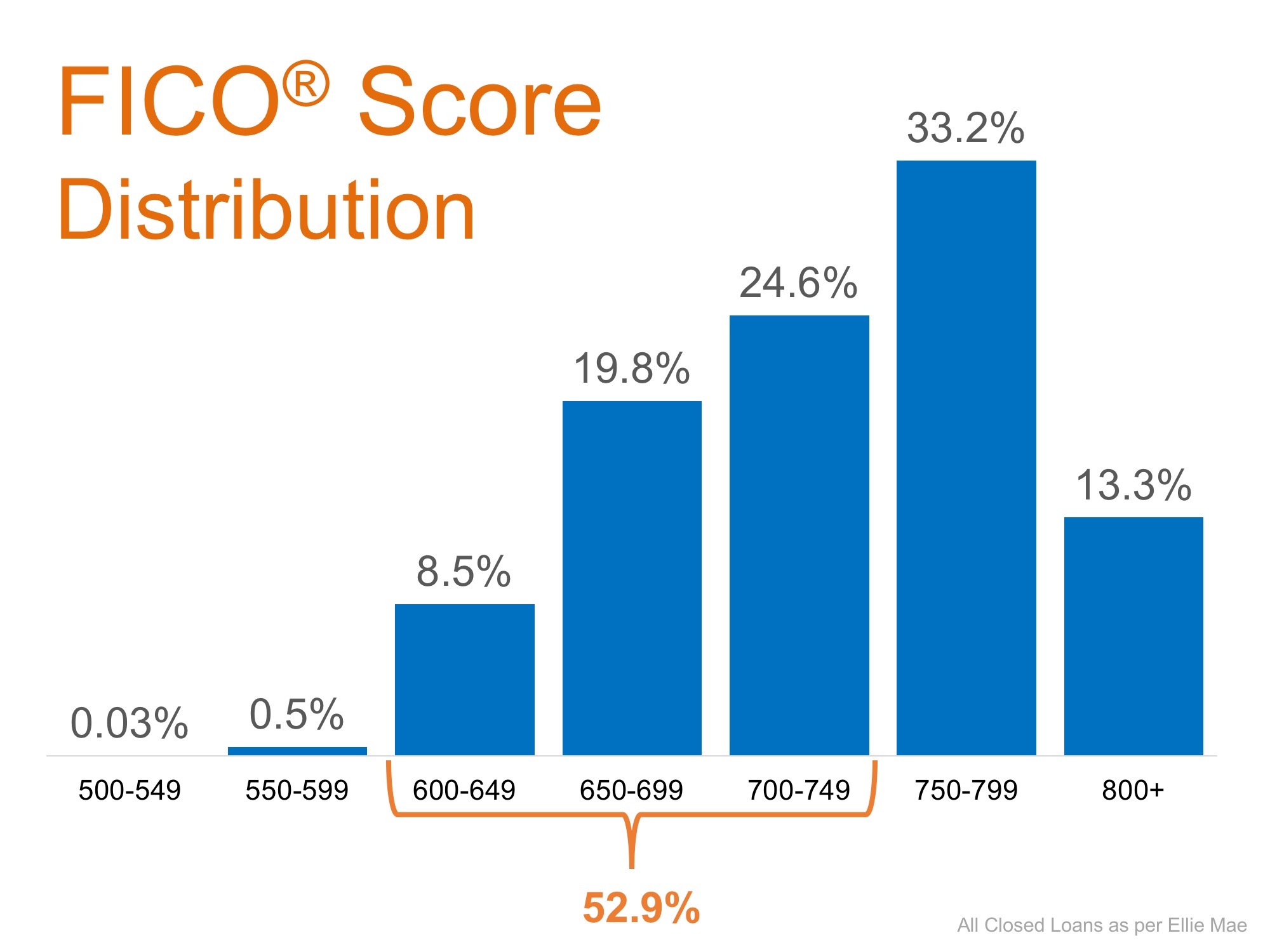 Bottom Line
If you are a prospective buyer who is 'ready' and 'willing' to act now, but are not sure if you are 'able' to, let's sit down to help you understand your true options.
source: No… You Do Not Need 20% Down to Buy NOW! | Real Estate with Keith Kreis
---
69% of Buyers are Wrong About Down Payment Needs
According to a recent survey conducted by Genworth Financial Inc. at the Annual Mortgage Bankers' Association Secondary Market Conference, mortgage professionals say that first-time buyers still believe a 20% down payment is necessary to buy in today's market. Steps To Buying A Home
Nearly 40% of mortgage industry professionals surveyed believe that a lack of knowledge about the home-buying process is keeping potential buyers on the sidelines. Saving for a down payment is often cited as a huge barrier for first-time homebuyers to make the leap into homeownership. Steps To Buying A Home
If homeowners believe that they need a 20% down payment to enter the market, they also believe that they will have to wait years (in some markets) to come up with the necessary funds to buy their dream homes. Steps To Buying A Home
The greatest source of confusion cited in the survey results centered around down payments. The results are broken down in the chart below: Steps To Buying A Home
https://dhbk.biz/real-estate-blog/69-of-buyers-are-wrong-about-down-payment-needs/
---
Top tips to save for a down payment
Being a renter does have some advantages. No paying off the mortgage, no property taxes, and the landlord takes care of any maintenance and repair costs. However, renting your home does have one major drawback: You are spending money on rent without gaining any equity of the property. Steps To Buying A Home
Many renters want to own their home, but struggle to find the cash needed to make a down payment on a property.
In fact, a recent survey conducted by the website gobankingrates.com showed that a fifth of adults in the U.S. don't use a savings account, while a third of those that do have zero funds in their account. Steps To Buying A Home
Below you will find some top tips to help you start saving and put aside enough funds to put a down payment on a home.
https://dhbk.biz/real-estate-blog/top-tips-to-save-for-a-down-payment/