Some industry experts are claiming that the housing market may be headed for a slowdown as we proceed through 2017, based on rising home prices and a potential jump in mortgage interest rates. One of the data points they use is the Housing Affordability Index, as reported by the National Association of Realtors (NAR).
Here is how NAR defines the index:
"The Housing Affordability Index measures whether or not a typical family earns enough income to qualify for a mortgage loan on a typical home at the national level based on the most recent price and income data."
Basically, a value of 100 means a family earning the median income earns enough to qualify for a mortgage on a median-priced home, based on the price and mortgage interest rates at the time. Anything above 100 means the family has more than enough to qualify.
The higher the index, the easier it is to afford a home.
Why the concern?
The index has been declining over the last several years as home values increased. Some are concerned that too many buyers could be priced out of the market.
But, wait a minute…
Though the index skyrocketed from 2009 through 2013, we must realize that during that time, the housing crisis left the market with an overabundance of distressed properties (foreclosures and short sales). All prices dropped dramatically and distressed properties sold at major discounts. Then, mortgage rates fell like a rock.
The market is recovering, and values are coming back nicely. That has caused the index to fall.
However, let's remove the crisis years (shaded in gray) and look at the current index as compared to the index from 1990 – 2008: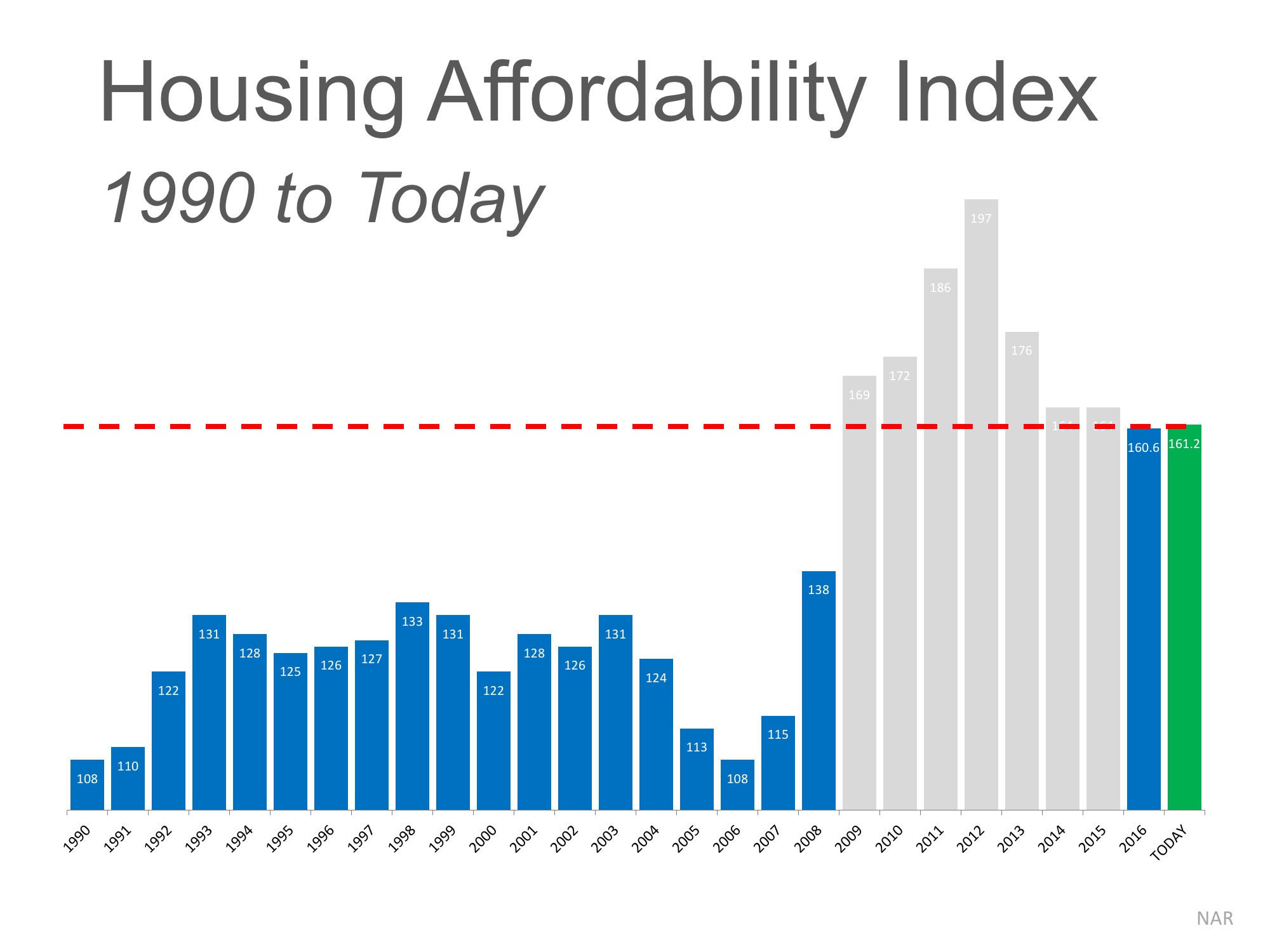 Though prices and rates appear to be increasing, we must realize that affordability is composed of three ingredients: home prices, interest rates, and income. And, incomes are finally rising.
ATTOM Data Solutions recently released their Q1 2017 U.S. Home Affordability Index. The report explained:
"Stronger wage growth is the silver lining in this report, outpacing home price growth in more than half of the markets for the first time since Q1 2012, when median home prices were still falling nationwide. If that pattern continues, it will help turn the tide in the eroding home affordability trend."
Bottom Line
Compared to historic norms, it is still a great time to buy from an affordability standpoint.
source: Real Estate News with Keith Kreis
---
According to a recent survey conducted by ClosingCorp, over half of all homebuyers are surprised by the closing costs required to obtain their mortgage.
After surveying 1,000 first-time and repeat homebuyers, the results revealed that 17% of homebuyers were surprised that closing costs were required at all, while another 35% were stunned by how much higher the fees were than expected.
Speak with your lender and agent early and often to determine how much you'll be responsible for at closing. Finding out that you'll need to come up with thousands of dollars right before closing is not a surprise anyone is ever looking forward to.
---
The "Cost of Waiting to Buy" is defined as the additional funds it would take to buy a home if prices and interest rates were to increase over a period of time.
Freddie Mac predicts that interest rates will increase to 4.8% by this time next year, while home prices are predicted to appreciate by 4.8% according to CoreLogic.
Waiting until next year to buy could cost you thousands of dollars a year for the life of your mortgage!