Today, many real estate conversations center on housing prices and where they may be headed. That is why we like the Home Price Expectation Survey.
Every quarter, Pulsenomics surveys a nationwide panel of over one hundred economists, real estate experts, and investment & market strategists about where they believe prices are headed over the next five years. They then average the projections of all 100+ experts into a single number.
The results of their latest survey:
Home values will appreciate by 5.0% over the course of 2017, 4.0% in 2018, 3.2% in 2019, 3.0% in 2020, and 3.0% in 2021. That means the average annual appreciation will be 3.64% over the next 5 years.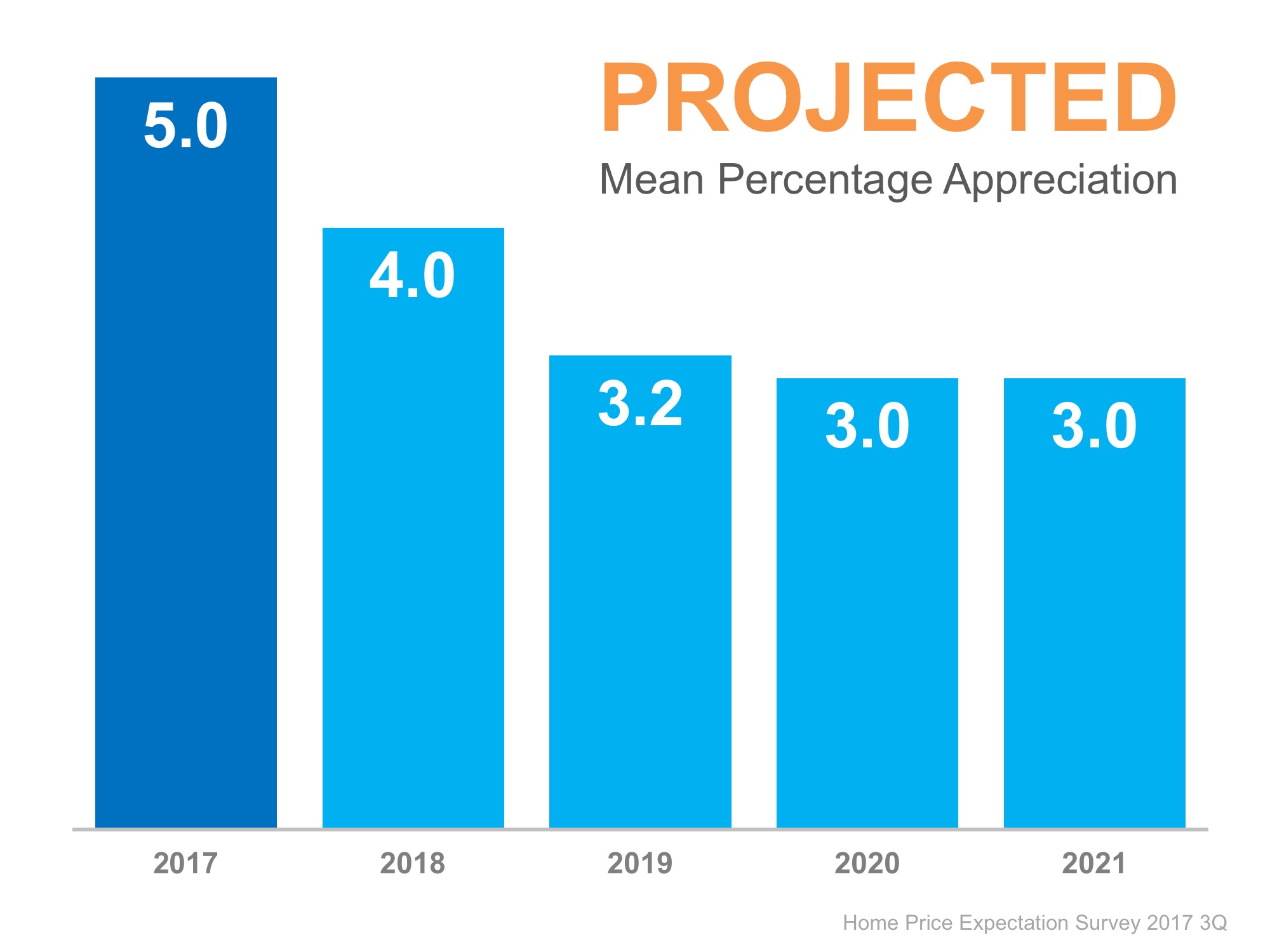 The prediction for cumulative appreciation increased from 17.8% to 18.4% by 2021. The experts making up the most bearish quartile of the survey are projecting a cumulative appreciation of 6.7%.
Bottom Line
Individual opinions make headlines. We believe this survey is a fairer depiction of future values.
source: Where Are Home Prices Heading in The Next 5 Years? | Real Estate with Keith Kreis
---
US Housing Market Continues the Move into 'Buy Territory'!
According to the Beracha, Hardin & Johnson Buy vs. Rent (BH&J) Index, the U.S. housing market has continued to move deeper into buy territory, supporting the belief that housing markets across the country remain a sound investment. Keith Kreis Buy Property
The BH&J Index is a quarterly report that attempts to answer the question: Buy Property
In today's housing market, is it better to rent or buy a home?
The index examines the entire US housing market and then isolates 23 major cities for comparison. The researchers "measure the relationship between purchasing property and building wealth through a buildup in equity versus renting a comparable property and investing in a portfolio of stocks and bonds." Buy Property
Read more…
https://dhbk.biz/real-estate-blog/us-housing-market-continues-the-move-into-buy-territory/
---
3 Reasons the Housing Market is NOT in a Bubble
With housing prices appreciating at levels that far exceed historical norms, some are fearful that the market is heading for another bubble. To alleviate that fear, we just need to look back at the reasons that caused the bubble ten years ago. Buy Property
Last decade, demand for housing was artificially propped up because mortgage lending standards were way too lenient. People that were not qualified to purchase were able to attain a mortgage anyway. Prices began to skyrocket. This increase in demand caused homebuilders in many markets to overbuild. Buy Property – Ask Keith
Eventually, the excess in new construction and the flooding of the market with distressed properties (foreclosures & short sales), caused by the lack of appropriate lending standards, led to the housing crash. Read more…
https://dhbk.biz/real-estate-blog/3-reasons-the-housing-market-is-not-in-a-bubble/
---
Inventory Shortages Are Slowing Down the Market
The real estate market is moving more and more into a complete recovery. Home values are up. Home sales are up. Distressed sales (foreclosures and short sales) have fallen dramatically. It seems that 2017 will be the year that the housing market races forward again. Buy Property – Ask Keith Your local Agent
However, there is one thing that may cause the industry to tap the brakes: a lack of housing inventory. While buyer demand looks like it will remain strong throughout the summer, supply is not keeping up. Buy Property
Here are the thoughts of a few industry experts on the subject:
https://dhbk.biz/real-estate-blog/inventory-shortages-are-slowing-down-the-market/